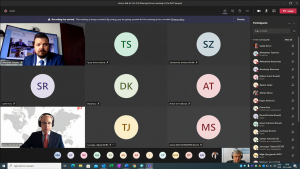 MARRI Participants' Coordinators for trafficking in human beings met for the third time as members of PaCT Steering Group to discuss the project progress, outcomes and the way forward regarding the project objectives. The meeting was attended by representatives of the project's implementing partners International Centre for Migration Policy Development (ICMPD), NGO Tjeter Vizion from Albania, NGO World Vision from Bosnia and Herzegovina and the NGO Executive Group form Serbia; representatives of GIZ Project team and the MARRI RC team.
Following the opening remarks by MARRI RC Director Sashko Kocev and GIZ Skopje Team Leader Michael Samec, the agenda of the meeting focused on the state of play of different project components presented by the project's implementing partners, leading to discussions regarding the key findings derived from the conducted activities. Specifically,  the participants of the meeting discussed the capacity development tools for identifying (potential) victims of THB, the role of Mobile Identification Teams in combating THB in Western Balkans, the development of toolboxes for awareness raising regional campaigns and the findings of the "Assessment Report of the THB Strategies and Action Plans – needs, gaps and good practices" in the MARRI Participants, conducted by ICMPD.
The discussions of the 3rd Steering Group meeting were successfully concluded, agreeing to be continued with proposed activities and timeframe for the next 6 months.
The Regional Project on Preventing and Combating Trafficking in Human Beings in the Western Balkans (PaCT) commissioned by the Federal Ministry for Economic Cooperation and Development (BMZ) and implemented by Gesellschaft für Internationale Zusammenarbeit (GIZ) in cooperation with MARRI as a strategic partner.
24 November 2020 – 3rd PaCT Steering Group Meeting