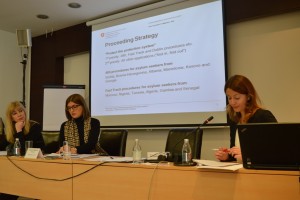 The joint training "Upgrading procedures for asylum seekers" has been organized for representatives from the Ministries of Interior Affairs and Border Police authorities from Bosnia and Herzegovina, Bulgaria, Macedonia, Montenegro, Kosovo*, Moldova, Romania and Serbia and it took place on 10 November 2016 in Belgrade, Serbia.
The main objective was to transfer EU expertise and best practices, particularly is reaching common standards to guarantee access to fair and efficient asylum procedure, but also to collect relevant and specific inputs from BORDAIRPOL II project beneficiaries, that would contribute to the development of MARRI Strategy 2017-2020.
Welcoming the participants on behalf of the host country, Jelena Vasiljevic, Assistant Minister of Border Police Directorate, informed on achievements in upgrading the asylum system in Serbia related to legal framework and capacity building. Creation of the Asylum Office as an organizational unit within the Border Police Directorate contributed to more efficient asylum procedures. The main purpose of adoption of the new Law on Asylum and temporary protection is promotion of the national asylum system and harmonizing the national regulations with EU Directives, that will contribute to accomplishment of tasks deriving from the EU accession process and defined in the Chapter 24, stated Vasiljevic.
In her address to workshop participants, MARRI RC Director, Ambassador Tamara Mugosa, stressed that MARRI Participants shall work on unifying the standards and increase the level of cooperation, and in that way, enable easier access to the rights that the asylum seekers shall enjoy in accordance with the international conventions and the European legislation.
Selma Mehovic, National Representative of Montenegro to MARRI RC and BORDAIRPOL II Project manager, stressed that the overall objective of the new Project cycle is to bring existing regional mechanisms into compliance with EU acquis, enhance administrative capacities of the Southeast European Countries' border police, increase operational coordination in their efforts to counteract irregular migration and to fight against terrorism and crime, but also foster cooperation with strategic partners such as: European Commission, FRONTEX, DCAF, Swiss State Secretariat for Migration and EASO.
Representatives from Swiss State Secretariat for Migration, Bulgarian State Agency for Refugees, Romanian Ministry of Interior shared their experience and the representatives of MARRI Participants followed by interactive discussion.
The participants were also informed about MARRI Project "Improvement of procedures for establishing identity of irregular migrants" as well as Regional analysis on asylum systems which has been produced with presenting main output related to establishment of joint interpretation pool in MARRI Participants.
*This designation is without prejudice to positions on status, and is in line with UNSCR 1244/1999 and the ICJ Opinion on the Kosovo declaration of independence
BORDAIRPOL II Third Joint Training in Belgrade, Serbia