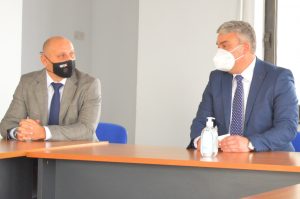 Skopje – Exchange of views about the regional priorities when it comes to migration and MARRI's role in the overall efforts to improve the mechanisms for orderly migration, were the main topics for discussion during the first official visit of the Ambassador of Bosnia and Herzegovina to Skopje, H.E. Mr. Dragan Jacimovic to the MARRI Regional Centre. The Embassy's Counsellor Mr. Damir Masic and Bosnia and Herzegovina Representative to MARRI RC, Dr. Ankica Tomic also attended the meeting.
The occasion provided an opportunity for MARRI RC Director Sashko Kocev to present insight into the most important activities of MARRI, with emphasis on the priorities of the current Presidency-in-Office by Montenegro. Speaking about the collaboration among the MARRI Participants in MARRI format, Director Kocev stressed that the Participants' representation at the Regional Centre and the nomination of relevant focal points within the Participants' administrations are crucial for effective functioning of the Initiative. In that regard, he commended the recent appointment of Dr. Ankica Tomic as a Bosnia and Herzegovina Representative to MARRI RC, affirming that this occurrence has greatly improved the communication between Bosnia and Herzegovina's administration and the Secretariat of MARRI.
On his part, Ambassador Jacimovic recognized the importance of MARRI's role in the Western Balkans.  He offered full support in terms of the specific activities of MARRI and reconfirmed the readiness of Bosnia and Herzegovina to continue strengthening the regional cooperation.
Mu
9 February 2021 – The Ambassador of Bosnia and Herzegovina to Skopje in an official visit to MARRI Regional Centre