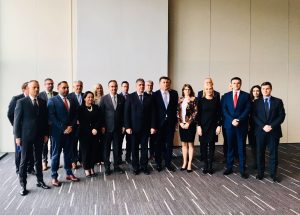 Ljubljana –  The ninth Brdo Process Ministerial Conference took place on 4 March 2020, in organisation of the European Affairs and International Cooperation Service of the Ministry of the Interior of the Republic of Slovenia. The participating delegations of Western Balkan region, Croatia, Slovenia, Austria, representatives of international organisations such as ICMPD, OSCE, DCAF, IISG and others, discussed the regional cooperation in the fight against trafficking in human beings, and the investigation of child sexual abuse online. The topics were chosen to mark the 10th anniversary of the Network of Anti-trafficking Coordinators from South-Eastern Europe, established in 2010 in context of Brdo Process.
On behalf of MARRI RC, the conference was attended by the RC Director Sashko Kocev and MARRI RC Programme Manager Aleksandar Todosiev.
A day before and on the sideline of the Ministerial Conference, a meeting of the Network of Anti-trafficking Coordinators was organized by the Slovenian Office for Combating Trafficking in Human Beings, with support of ICMPD. On this occasion, the Coordinators were presented with the new Strategic Paper 2020-2024 developed by ICMPD, later presented at the Ministerial Conference and endorsed by the Ministers of Interior of the Brdo Process member states. The Coordinators also discussed  the 2020 Chairmanship of the Network, the cooperation with other organizations as well as the financial framework for existence of the Network.
Taking into consideration the similarity of the activities of the Anti-trafficking Network of Brdo Process and MARRI Network of Coordinators for fight against Trafficking in Human Being, the Coordinators agreed that organizing their future meetings jointly, would prevent overlap of the activities and will consolidate the results.
3-4 March 2020 – Brdo Process Ministerial Conference