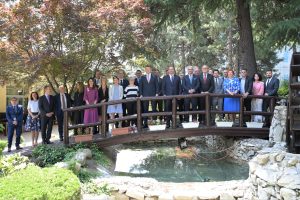 Skopje – The MARRI Regional Forum of Ministers of Interior/ Security concluded the MARRI Presidency-in-Office by North Macedonia and marked the beginning of the yearlong chairmanship over the Initiative by the Republic of Serbia. High-level officials from MARRI Participants and representatives from international community attended the ministerial session, and once again, highlighted the importance of the regional cooperation for strengthening and development of the region.
In the welcoming remarks, the Minister of Interior of North Macedonia Oliver Spasovski said that North Macedonia has a special interest in the functioning and successful work of MARRI not only because its Secretariat was based in Skopje but also because MARRI's mandated areas of cooperation were topics of high interest to the entire region and the European Union. He added that this was the reason why the EU offered a particularly solid basis for work and cooperation both among MARRI Participants and with the European, international and regional organizations. Regarding the work and conclusions of the MARRI Committee which convened the previous day, Minister Spasovski gave full support for the work done saying that the conclusions and recommendations of the Committee reflect the interests of each of the Participants and provide the Forum Members with a clear framework about the direction in which MARRI will move in the coming period. Minister Spasovski thanked the members of the MARRI Committee for their commitment and constructiveness in articulating ideas and their innovative approaches for better functioning of the Initiative.
On behalf of MARRI RC, the Director
Sasko Kocev
presented the activities and achievements of the past year, among which, the adoption of a key MARRI document, successful closure of the PaCT project financed by the German government, kick-off of a new project supported by Central European Initiative – CEI, and signing of Memorandum of Understanding between the MARRI and Regional Anti-Corruption Initiative. Director Kocev said that MARRI will continue to work on overcoming the regional challenges in the migration governance and thus, contributing to the security and prosperity of the MARRI region.
Following the tour de table of the MARRI Participants, the Forum adopted all MARRI documents as recommended by the MARRI Regional Committee. With special thanks to Director Kocev for the devoted professional efforts, the Forum supported the candidacy of Ms. Snezana Trajanovska, Head of Unit for Foreigners and Readmission, Border Affairs and Migration Department at the Ministry of Interior of the Republic of North Macedonia as a new MARRI RC Director for the period of three years, starting from 1 August 2023.
During the tour de table of the international organizations and donor countries, appreciation and support to MARRI offered representatives of OSCE Mission to Skopje, IOM, UNHCR, GIZ and Swiss Embassy.
Skopje Declaration  was adopted at the very end of Forum session followed by the handover of the MARRI Presidency-in-Office to the Republic of Serbia for the period of June 2023 – June 2024.
28 – 29 June 2023 – MARRI Regional Committee Meeting and Forum