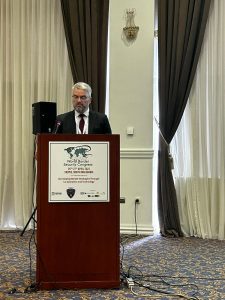 The 2023 World Border Security Congress kicked off on 25 April in Skopje, North Macedonia, gathering border protection policy-makers, management and practitioners together with security industry professionals, to discuss current issues and future possibilities towards safe and secure border and migration management.
Among other key note speakers, MARRI RC Director Sashko Kocev welcomed the audience. In his address, Director Kocev said that Western Balkan region must be proud of the achievements in the area of border management for which, the region worked hard in spirit of regional cooperation and solidarity. Yet, he pointed out, it also needs to acknowledge the challenges ahead.
"One of the main challenges for us now is to develop a border management strategy that can respond to the needs of this dynamic region" said Kocev.
The programme of the WBSC included number of plenary sessions and workshops covering the topics of combatting counter terrorism and cross border organised crimes; securing maritime borders and combatting maritime crime; trafficking in human beings & migration-related crimes;  threats posed by terrorists and organised criminal groups and their smuggling networks; challenges to trade and customs, etc. During the closed workshop on Mainstreaming Human Rights into Immigration & Border Management, MARRI RC Migration Data and Policy Analyst Jordan Simonov spoke about the exchange of migration statistics in the Western Balkans and presented the MARRI's platform for exchange of non-personal migration statistics, WB-MIDEX.
The World Border Security Congress is a high level three day event that debates current and future policies, implementation issues and challenges as well as new and developing technologies that contribute towards safe and secure border and migration management.
The event was co-hosted by the Ministry of Interior and Border Police of North Macedonia.
25 – 27 April 2023 – World Border Security Congress in Skopje, North Macedonia