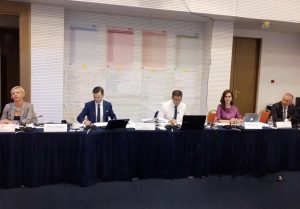 Budva – The Integrative Internal Security Governance in the Western Balkans (IISG) held the Support Group Meeting for the third pillar – Western Balkan Border Security Initiative (WBBSi) on 23rd and 24th of September 2021, in a hybrid mode.
The meeting was co-chaired by Mr. Agron Sojati, Head of the IISG Secretariat, Ms. Neli Rasovic, Representative of Montenegro to MARRI RC and Mr. Pawel Sliwinski, FRONTEX Team Leader for Western Balkans and Turkey. By bringing together participants from the six Western Balkans administrations (WB6), UNODC, GIZ, IOM, RACVIAC, DCAF, Italy and Greece, the aim of the meeting was to discuss the process of finalisation of the Biennial Needs Mapping report to be sent for adoption to the IISG Governing Board at its next meeting on 2nd of December 2021.
All participants commended the extensive work done so far by the IISG Secretariat in providing the first filtering and grouping of the identified legislative, institutional and operational needs from the WB6 partners in the area of border security. In a constructive discussion, it was agreed on the next steps for the finalisation of the needs mapping process, as well as regarding the methodology for the operationalisation of the Secure Database and the development of Response Mapping.
As an IISG member, MARRI will continue to contribute, within the fields of its mandate, to the WBBSi activities with the aim to create synergies and support WB6 administrations to reach international and EU standards.
More information about the IISG process can be found on: https://wb-iisg.com/
23-24 September 2021 – Support Group Meeting on Western Balkan Border Security Initiative (WBBSi)