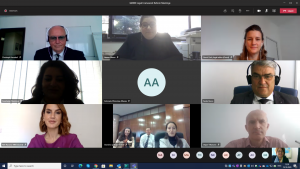 The final meeting of the MARRI Legal Framework Reform Working Group was organised by Director Sashko Kocev online, under Montenegro Presidency-in-Office. The meeting was dedicated to the final revision of new draft MARRI Basic Documents, as proposed by Integrated German Expert Christoph von Harsdorf.
The Reform includes a partly concluded management reform and will lead to higher functionality of MARRI, optimized processes and increased efficiency as well as to a higher output of its Regional Centre.
The Legal Framework Reform process started in November 2018 under Bosnia and Herzegovina Presidency-in-Office, and continued under Kosovo* Presidency-in-Office. The reform process is fully supported by the international and regional stakeholders and funded by the German Federal Ministry for Economic Cooperation and Development (BMZ) through Deutsche Gesellschaft für Internationale Zusammenarbeit (GIZ).
The Working Group is composed of all six MARRI Committee Members, all six MARRI Coordinators, MARRI Participants' Representatives and legal and financial experts from all Participants.
The Agenda of the 4th meeting dealt with new draft MARRI Statute, new draft MARRI General Rules, new draft Financial Rules and Regulations, new draft Office Rules and a new draft Code of Ethics.
All Participants will now study the produced, optimized draft documents and can still comment on them. At the next session of the MARRI COMMITTEE in December 2020, there is a great chance that pre-final texts can be agreed on for a recommended adoption by the Ministers of Interior/Security (MARRI FORUM) of all six MARRI Participants.
*This designation is without prejudice to positions on status, and is in line with UNSC 1244 and the ICJ Opinion on the Kosovo declaration of independence.
19 – 22 October 2020 – 4th MARRI Legal Framework Reform Meeting