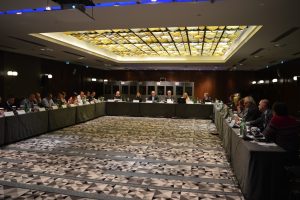 Belgrade – The presentation of Vega Handbook: Children at airports published by Frontex, was the main theme at the Eight Joint Training within BORDAIRPOL II project, organized by MARRI RC. The training was attended by Commanders and operational staff of Border Police at the international airports of MARRI Participants, project beneficiaries Bulgaria, Romania and Moldova as well as representatives from ICMPD, Interpol and the Centre for Protection of Victims of Trafficking in Human Beings of the Republic of Serbia. With this activity, MARRI RC successfully completed the implementation of "Support of the sustainable development of cooperation among border police in Southeast Europe" project, funded by Swiss State Secretariat for Migration (SEM) for the period 2016-2018.
The  Eight Joint Training was opened by the Head of Border Police Directorate of the Republic of Serbia Miljan Stanojevic who welcoming the participants, stressed that the project activities are entirely in accordance with the strategic priorities of Serbian Ministry of Interior and they greatly contribute to building the police capacities in combating the criminal activities promoting at the same time the regional cooperation.
Frontex Anti-trafficking Coordinator Duco van Heel presented the content of the Vega Handbook: Children at airports as set of guidelines intended to assist the border guard officials in dealing with children that are crossing the external air borders of European Union, whether they are accompanied or not. The handbook, which has been result of years of cooperation between Frontex, border guards, non-governmental agencies and international organizations such as United Nations High Commissioner for Refugees (UNHCR) and International Organization for Migration (IOM), offers recommendations on how to spot and assist children at risk of trafficking and provides quick reference and best practices on the matter. With support of MARRI and within BORDAIRPOL II project, the handbook was translated to the Western Balkans local languages as added value to its usefulness.
Melita Gruevska-Graham, Senior Project Manager at ICMPD Anti-trafficking Program addressed the topic in context of Transnational Referral Mechanisms (TRM) and pointed out the importance of the National Referral Mechanisms (NRM) in providing effective and timely assistance to those in need of protection. Experiences and best practices regarding the cases of unaccompanied minors at the borders and other reported cases on the territory of Republic of Serbia were presented by Lidija Milanovic, Head of Department at the Centre for Protection of Victims of Trafficking in Human Beings of the Republic of Serbia.
In the following exchange of experiences and practices, the participants of the event assessed the current state of play at their respective air border crossing points and focused on the issues that need further actions.
18 December 2018 – BORDAIRPOL II Eight Joint Training: Presentation of Vega Children Handbook