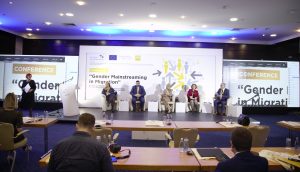 Sarajevo –  Women and men on the move face very different living conditions and circumstances, calling for gender-specific policies and measures to facilitate their journeys. To address this challenge, MARRI RC initiated the first Regional Conference on Gender Mainstreaming in Migration, happening in Sarajevo, Bosnia and Herzegovina from 13 to 15 October 2021. The conference is co-hosted by the Gender Equality Agency of Bosnia and Herzegovina under the Ministry for Human Rights and Refugees with financial support from the Asylum, Migration and Integration Fund (AMIF) and the Austrian Federal Ministry of Interior (BMI).
MARRI Regional Centre Director Mr. Sashko Kocev thanked the European Union, the Austrian government, the co-hosting institution and the key organisers – Austrian NGO Hilfswerk International and Association for Help and Development HAJDE from Sarajevo – for helping MARRI RC to realise this important and timely conference.
" We are aware of the importance of the application of gender mainstreaming in practice and of its positive impact and outputs in the execution of the mandates of all relevant institutions responsible for migration. This is the reason why we wanted, for the first time, to bring together representatives of gender authorities, policy makers and practitioners of MARRI Participants' administrations responsible for migration, civil society, academia and representatives of international organizations."
On behalf of the co-hosting Gender Equality Agency of Bosnia and Herzegovina, the Director Ms. Samra Filipovic Hadziabdic pointed out the urgent need to apply gender mainstreaming in the migration and asylum policies of all MARRI Participants.
"Following the mass inflow of refugees in Bosnia and Herzegovina, women migrants are again becoming invisible and disadvantaged in the realisation of their protection and rights". Groups of women traveling alone or with children, pregnant women, feeding women, adolescents, unaccompanied boys and girls, children who are married and who may have their own children, persons with disabilities and older men and women may face increased risks such as abuse, exploitation, rape, trafficking in human beings, organ trade and other types of violence.
Special Advisor to the Minister of Security of Bosnia and Herzegovina Mr. Sasa Kecman urged MARRI Participants to find a common regional approach to address these challenges.
"An adequate response to all challenges that we face in the context of mixed migration movements, implies putting into function of all institutional, technical and financial capacities and resources at all levels of government, while protecting the public security and health of both the local and the migrant population."
This vision was also shared by Her Excellency Dr. Ulrike Hartmann, Ambassador of Austria to Bosnia and Herzegovina.
"Appropriate sensitisation of relevant professional groups and provision of gender-sensitive assistance are key. Therefore, I hope that this conference would contribute to more sensibility towards female migrants and that it will give clear signals to the authorities in the entire region and to the general public to make this an issue."
Finally, Hilfswerk International's Regional Director Balkans Ms. Suzana Jasarevic saw this conference as an excellent opportunity for long-term and structured cooperation with MARRI RC and Participant administrations. "Key actors from the Western Balkans will consider the role of gender mechanisms from both a regional and an EU perspective. In addition, we are planning more regional events of this kind in the coming period in cooperation with MARRI, on the topics of readmission, asylum and other field relevant for decreasing irregular migration towards the EU".
The Conference is organized as a three-day event, with thematic panel sessions focusing on integrating a gender perspective into legal, policy and institutional frameworks; inclusive and intersectional gender responsive approach to migration; and meaningful impacts of gender-responsive approaches on migration in practice.
13 – 15 0ctober 2021 – Regional Conference on Gender Mainstreaming in Migration