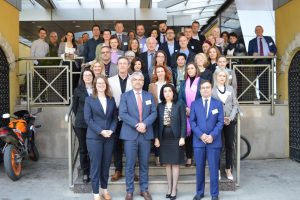 Skopje – The fourth in the series of workshops under "Strengthening regional migration governance" project gathered more than 60 professionals working in different areas of migration management in North Macedonia. Representatives of governmental institutions, international organizations, research/academic institutions and civil society discussed the topics of border management, asylum, trafficking in human beings, readmission, return and labour migration, in terms of objectives, challenges and opportunities but also to provided ideas, best practices and recommendations for strengthening the migration governance in the Western Balkans.
The State Secretary of the Ministry of Interior and National Coordinator for Trafficking in Human Beings in North Macedonia, Ms. Magdalena Nestorovska opened the event praising the achievements of MARRI stressing that as a regional Initiative, MARRI is in ideal position to promote the regional dialog, cooperation and coordination among all relevant stakeholders in the area of migration. Briefing on the ongoing activities, initiatives and projects undertaken by the Ministry of Interior, Ms. Nestorovska informed that North Macedonia is actively extending the cooperation with the other MARRI Participants and beyond, working on establishing sustainable systems for prevention and suppression of the irregular migration.
The participants were also addressed by MARRI RC Director Sashko Kocev who presented MARRI's objectives and priorities outlined in the MARRI Strategy 2018-2020, MARRI Participant Representative of North Macedonia to the Regional Centre Mr. Atanas Minov, and Ms. Kristin Baalmann on behalf of GIZ Office Skopje.
In addition to the five thematic areas, the participants were presented and discussed the two possible MARRI products – a publication White paper on migration, envisioned as regional migration profile with number of comprehensive analyses on the migration in Western Balkans and, establishing Pool of experts on migration, aimed at promoting of the regional expertise on migration.
The workshops are supported by German Federal Ministry for Economic Cooperation and Development (BMZ) through German International Cooperation (GIZ). The conclusions of all consultative workshops will serve as a basis for development of a multi-annual regional project, intended to provide support, tools and knowledge for addressing the regional priorities in the migration management.
10 May 2019 – Workshop on "Strengthening regional dialogue and cooperation on migration"